Poster Graduate Winner

Shannon Leininger
Penn State University Law
"Creating a Better System: Managing
Stormwater and Floods in Pennsylvania"

Poster Undergraduate Winner

Matthew Berzonsky
St. Francis University
"Analyzing the Impact of Mine Drainage Residuals on
Phosphorus Sequestration and Agricultural Production"
Oral Presentation
Graduate Winner

Cheyenne Moore
University of Pittsburgh
"Conservation genomics of Pennsylvania-threatened Baptisia australis var. australis: An investigation in riparian gene flow"

Oral Presentation Undergraduate Winner

Jonathan Hayes
Bucknell University
"Genetic Diversity & Connectivity of Chasmanthium latifolium
(Poaceae) in Pennsylvania & the Effect on Conservation Status"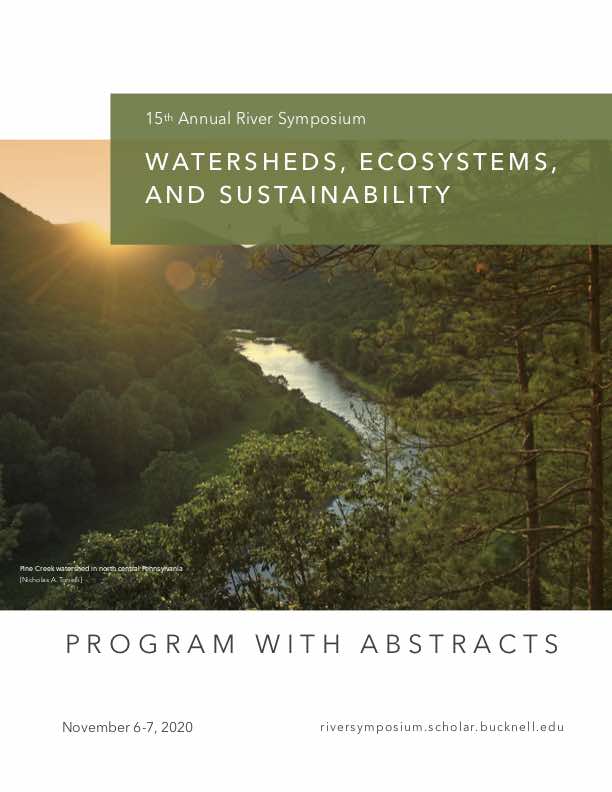 Program With Abstracts
The proceedings for the 2020 River Symposium are now available. It contains a schedule of events, guest speaker bios, abstracts for poster and oral presentations (that include photos provided by authors), and clickable Zoom links for all Friday and Saturday sessions.
Depending on your needs, there are two versions of the Program With Abstracts available: (1) a small file size version that contains low-resolution images; and (2) a large file size version that contains high-resolution images:
(1) a low-resolution version (2.6Mb), which is suitable for viewing on mobile devices (phones/iPads) or for attaching to emails:
(1) a high-resolution version (194Mb), which is suitable for printing or viewing on laptop/desktop computers:
Please register!
To better serve the community, this year we are asking everyone to register for this event. It's free and only takes a minute.
Registration provides you access to all the Zoom links, a copy of the symposium proceedings, and subsequent symposium newsletters and updates.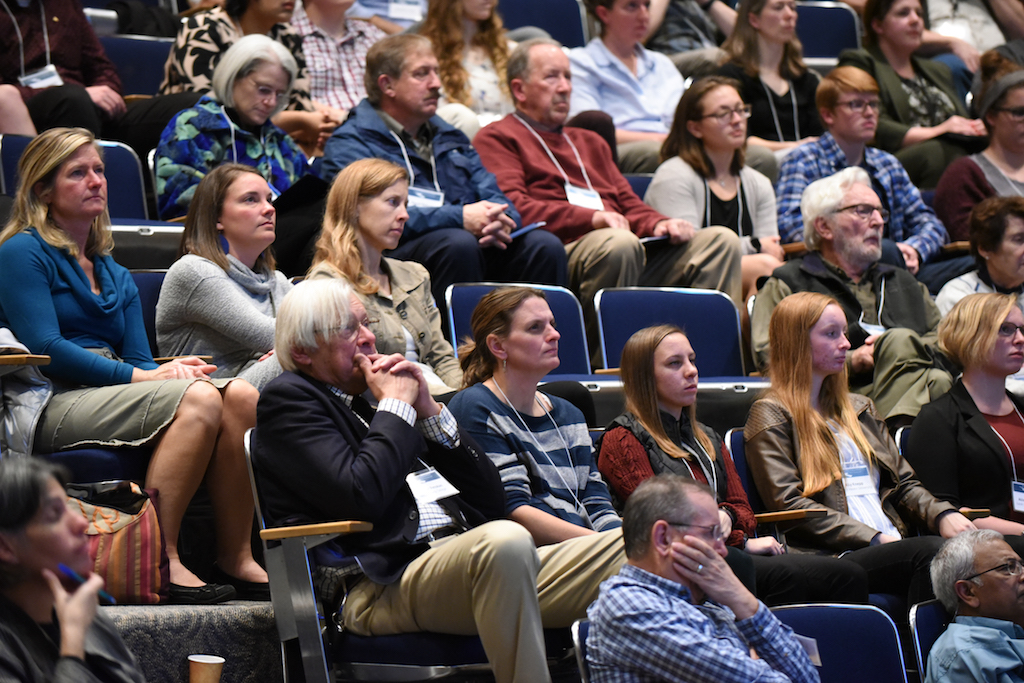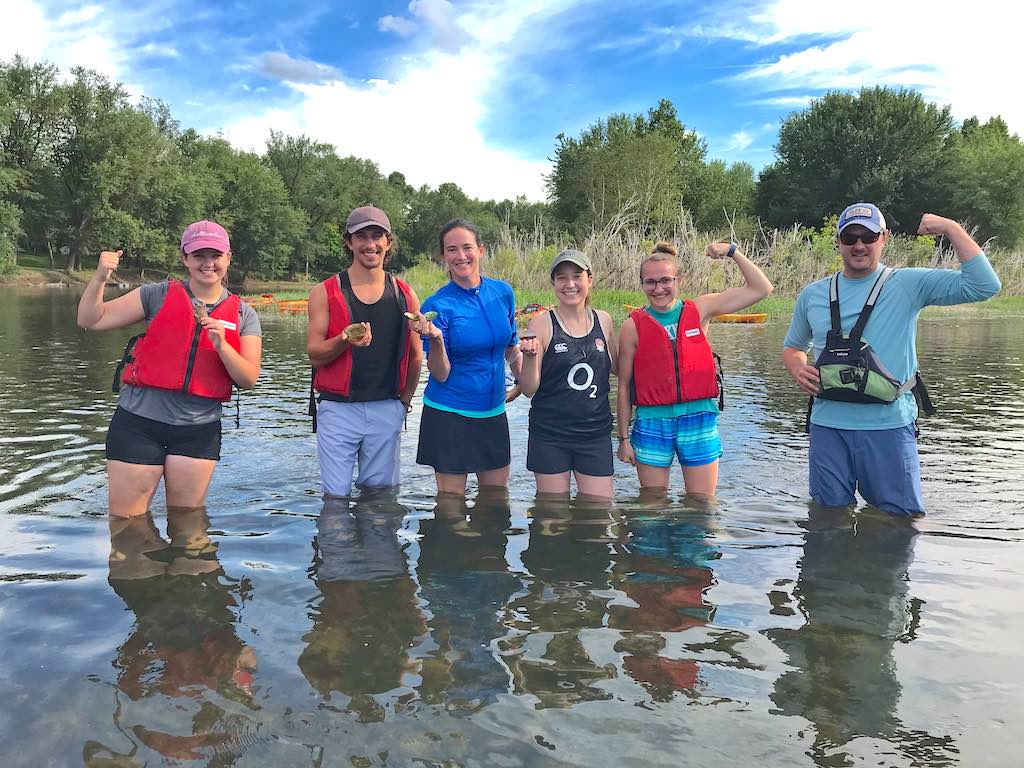 Coming together to inspire change
This symposium draws together people from all walks of life who share a common interest in rivers, watersheds, communities, and the connections therein. It also offers a time and a place where the public can interact with academics, professionals, and regulators, all working toward the same goal – ensuring our watersheds remain healthy for generations to come."
The Pennsylvania Water Resources Research Center is also a proud supporter of this symposium.
A banner event!
2020 marks the 15th anniversity of the River Symposium, which began as a gathering of students and faculty from six universities that under the leadership of Skip Wieder, formed the Susquehanna River Heartland Coalition for Environmental Studies, a coalition of universities, Geisinger, local conservancies and other non-profit groups, and state and federal environmental agencies. All interested in exploring issues related to the Susquehanna River in central Pennsylvania.
A virtual symposium
Due to the COVID-pandemic, this symposium will be held 100% virtually meaning you can participate and enjoy any event from the comfort and safety of your home via Zoom.
Links to all all symposium events, including individual posters and speakers will be made available on this website on or before the symposium begins. Participants are encouraged to start looking at the posters and talks by 12 pm (noon) on Friday, Nov. 6, 2020.
"The Future of Conservation"
Cynthia Adams Dunn
Friday, November 6, 2020
7:30 – 8:00 p.m.
Cynthia Adams Dunn serves as the sixth secretary of the Pennsylvania Department of Conservation and Natural Resources (PA DCNR), the agency where she has worked under three governors in multiple positions over the last two decades. A nationally-recognized leader in environmental conservation, Secretary Dunn provides leadership to DCNR's vast network of state forests, parks, conservation initiatives, recreational activities, and educational programs
A native of Pennsylvania and trained wildlife biologist and watershed ecologist, Dunn has received numerous awards, including the Frances E. Flanigan Environmental Leadership Award from the Alliance for the Chesapeake Bay, the Conservationist of the Year award from the Pennsylvania Federation of Sportsmen's Clubs and Pennsylvania Wildlife Federation, and the Conservationist of the Year award from the Appalachian Chapter of the Audubon Society.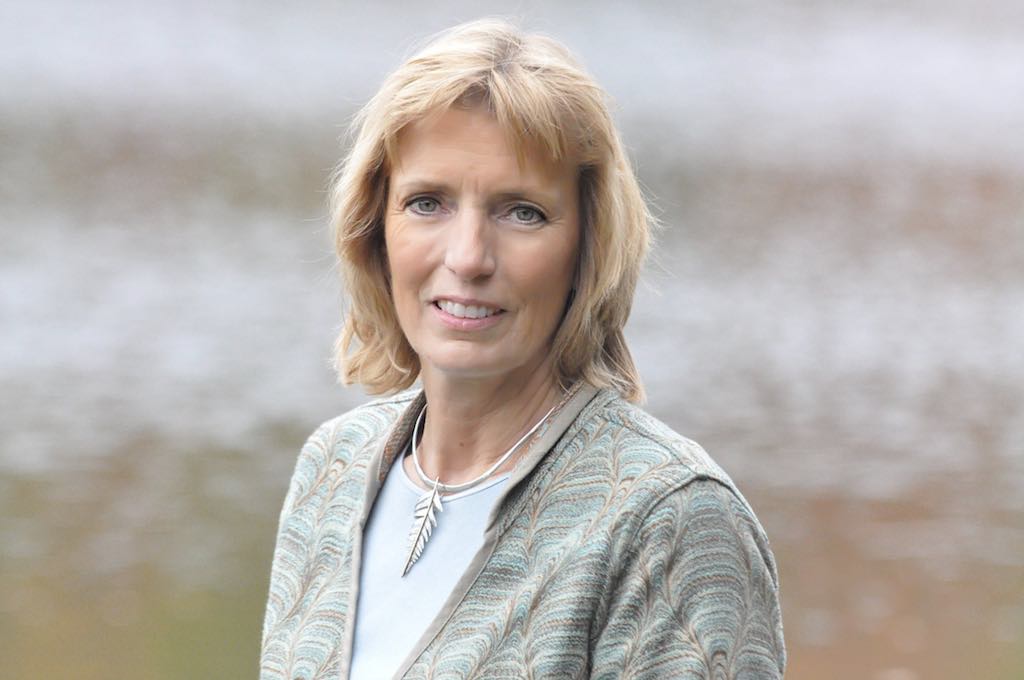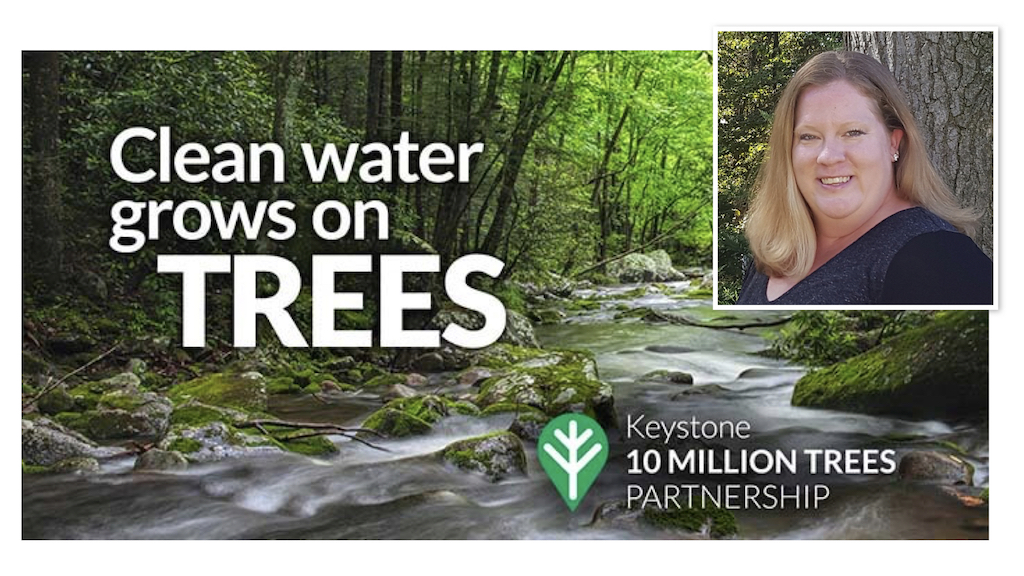 "Clean Water Grows on Trees: Finding Roots Through Collective Impact"
Brenda Lee Sieglitz
Saturday, November 7, 2020
12:00 to 1:00 pm
The collective strength of our experience, initiative, and ideas is necessary for us to create systemic change in Pennsylvania and plant 10 million trees by 2025. The Chesapeake Bay Foundation supports the current K10M Partnership strategy assists agencies, businesses, organizations and landowners with funding for tree plantings and innovative ideas that lead to increased demand and guarantee supply of native trees. This session will showcase how partners are collaborating across the Commonwealth to meet the challenges and opportunities towards the Chesapeake Bay Blueprint and Pennsylvania clean water goals.
Saturday, Nov. 7, 2020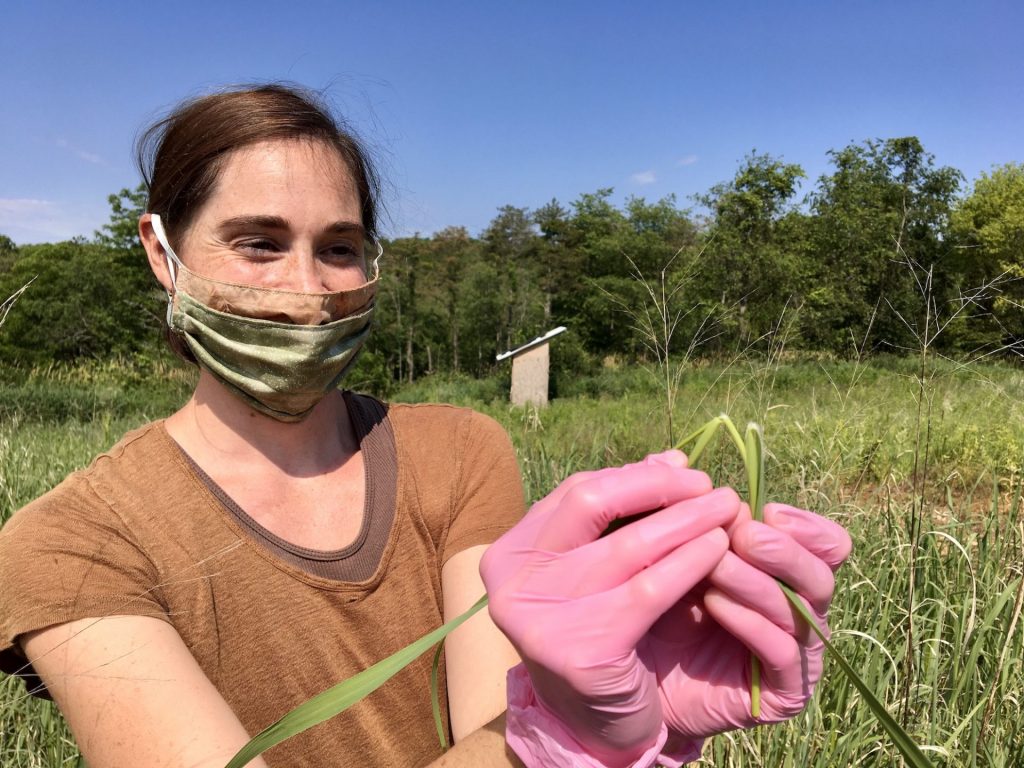 Conducting scientific research during pandemics
9 am – 10 am

The COVID-19 pandemic has impacted everyone's lives and this session is a way for everyone to share their stories and ideas about ways to advance research when one can't be in the field or laboratory.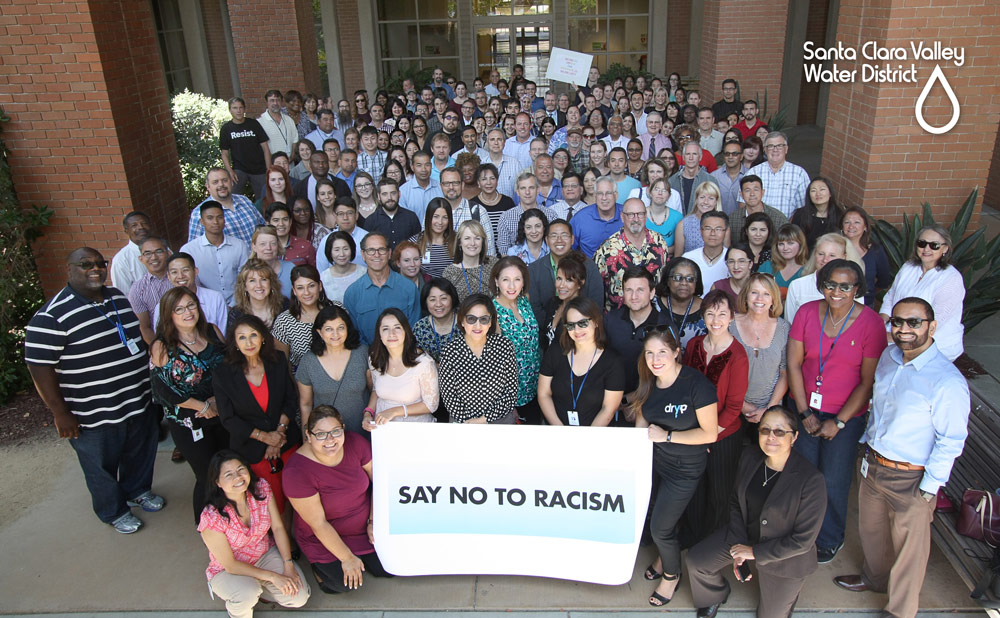 A path to increasing diversity, equity, and inclusion in the watershed sciences and environmental conservation
10 am – 11 am
Listen to stories "from the field" and identify actions the watershed sciences and environmental conservation movement should take to reduce racial discrimination and eliminate individual and systemic racism. Generate and share strategies that your organization has been able to improve diversity and inclusion, phase out microaggressions, and create a healthy environment for all.
Communicating your science to the public, policy makers, voters, reporters, and other key audiences
11 am – 12 pm
Explore ways to better disseminate and communicate your science to the public, policymakers, reporters, voters and other key audiences. How to use social media and other platforms to disseminate information and promote watershed sciences, environmental restoration, and many other issues associated with sustainability.
"This is a terrific event! It's great to see the students present their posters on Friday night and attend the talks and breakout sessions on Saturday. I made a lot of contacts too." (member of the public)
""I get a lot out of the plenary talks, breakout discussions, oral presentations, and conversations over lunch. I learned so much and plan to come back next year." (undergraduate student)
"I really appreciate the friendly and welcoming atmosphere of this symposium. It's a great networking event too. The evening social during Friday's poster session and the lunch and refreshments during the exhibits are a very nice touch." (member of local conservancy)
"I really appreciate the friendly and welcoming atmosphere of this symposium. It's a great networking event too. The evening social during Friday's poster session and the lunch and refreshments during the exhibits are a very nice touch."I like how this symposium tries to weave together art, religion, science, economics and policy. I hope Bucknell continues it for many years to come." (local citizen)